Community Workshops
Hawaii Energy provides free community programs to help residents of all ages and backgrounds learn more about saving energy and how to put their knowledge into action.
We work with schools, organizations and community partners in Hawaii, Honolulu, and Maui counties to share why using energy more efficiently is important to our islands and easy ways to save money on electric bills!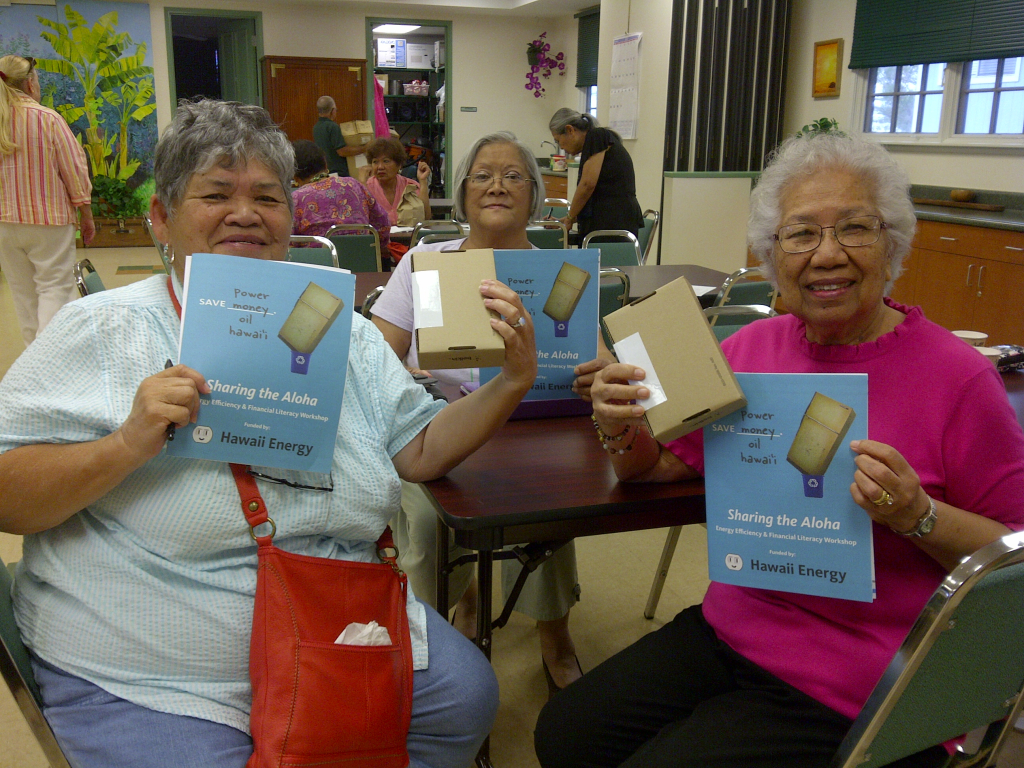 Workshops we can provide:
"Energy UNPLUGGED" Interactive Workshops

During this fun, local-style introductory course, we "flip the switch" on the often confusing concept of energy usage. From easy, no-cost tips to information on affordable upgrades, participants can learn how to become "energy entrepreneurs" – simply by changing their habits!

Have a specific energy topic for a certain age group?

Request a custom workshop today.

Duration: 60 minutes (extended as needed)

Topic examples:

Home energy upgrades
Current rebates & help available
Saving energy with: Appliances
Saving energy with: Home cooling options

Top 10 energy saving tips
How to do a home energy audit
Saving energy with: Solar options
Saving energy with: Water

Request information about Energy Unplugged.
School Classroom Presentations (K-12)

In collaboration with the Blue Planet Foundation, we offer custom energy literacy content taught right in the classroom for public and private school students of all ages. In addition to learning about energy efficiency and conservation, these presentations also spend time on the connections between energy usage and the environment. With Hawai'i's commitment to achieving 100% clean energy by 2045, it's important to involve our youth as they help shape the future.

Presentations can include your energy-related curriculum, contact us for more information.

Duration: 60 minutes (multiple sessions as needed)

Topic examples:

Energy and climate change
Environmental impacts: fossil fuels
Social impacts of energy efficiency

Energy and greenhouse gas emissions
Environmental impacts: oceans
Energy technology

Request information about Classroom Presentations.
Custom Group Training

Need some energy tips for your office? Does your Cub Scout tribe need help earning the energy badge? Or maybe your Zumba group would be interested to know how energy efficiency factors into a healthy lifestyle. We've got your answers and more with Custom Group Training sessions. Let our team do the research and help with answering your energy questions. Bring your bento, as we provide a casual lunch and learn environment.

Duration: 60 minutes (extended as needed)

Groups we've trained:

Hawaiian Airlines
Boy Scouts
HMSA

Bishop Museum
Catholic Charities
Synergy Fastpitch Hawaii

Request information about Special Interest Group Traning.