Electric Vehicle Charging Stations
THERE'S NO BETTER TIME THAN NOW TO GET EV READY!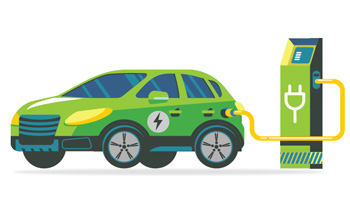 EVs are in high demand – install an EV charging station at your commercial facility or multi-unit residential dwelling and reap the many benefits.
What's New?
The remaining funding from Program Year 2022 will roll over into Program Year 2023, thereby extending the eligibility deadline for EVCS installations from June 30, 2023 to June 30, 2024. This webpage will be updated if subsequent acts provide additional program funding.
If your project is complete and ready to submit for a rebate, please download and fill out the latest EV Charging Station Incentive Application and submit with supporting documentation to hawaiienergyEVCS@leidos.com. Supporting documentation includes: product specification sheet(s) of the EVCS, paid invoice(s) for equipment and installation, W-9 tax form for the site host, and photos of the installation with signage as neccessary.
The total amount available is $66,972
Funding amount displayed as of October 24, 2023 represents the program's total remaining amount through June 30, 2024, as directed by the Hawaii State Legislature under Act 202 (2022). Rebate availability amount is adjusted as necessary to account for actual barrel tax collections funding.
Program Overview & Eligibility

Applications must be received by Hawaii Energy within 12 months of the date that a qualifying charging station was installed, activated, and made available for use unless otherwise specified in the program rules.
Applicants may apply for any number of Level 2 EVCS rebates per site and up to two (2) DC Fast-Charger rebates per site.
Program approval is generally not required prior to the purchase and installation of equipment; however, prior approval is strongly recommended to confirm funding availability and verify that the equipment meets minimum qualifications for an incentive.
For a full list of eligibility requirements, review our Application & Program Requirements.
Contact a local retailer/installation contractor to help you. We suggest choosing one of our approved Clean Energy Allies.
Assess: Work with your contractor to assess your site and infrastructure and review their estimate for installing your station(s).
Order & Install: Once you approve the project, the contractor will order the charging station that will suit your needs.
Submit Rebate Forms: Once your station is installed, be sure to submit all required documentation within 12 months of activating your station(s) unless otherwise specified in the program rules. Don't forget, rebates are awarded on a first-come first-served basis as long as funding is available, so submit your application as soon as possible.
Application & Program Requirements

Affordable housing developments must serve families making no more than 100% of the Hawaii Area Median Income (AMI) – as defined per county – to qualify for bonus rebates. Affordable housing developments on Kauai are eligible.
---
Application deadlines for qualifying EV charging stations
---
EVCS installations on Kaua'i are also eligible for KIUC rebates. Visit kiuc.coop/ev to learn more. Hawaii Energy and KIUC rebates may be stacked together (not to exceed total project costs).
---
Progress to Date
So far, over $1.2 million in rebates have been paid to help make 266 charging stations across the State a reality, including Level 2 stations at three affordable housing developments.
EVCS Rebated Since 2020
Data as of July 2023
Click here to view interactive EVCS map
"We strongly believe that more and more of our residents will be buying EVs in the future and we want to prepare for this emerging need in our communities. We were happy that we could incorporate EV charging stations at our Ko`oloa`ula and Kulia properties."
David Nakamura, Executive Director
Mutual Housing Association of Hawaii Inc.
---
Charging Station Resources
New to learning about EV charging or wish you had one at your favorite location? Here are some helpful links to guide you.
---
Check out these great organizations to learn more about owning, driving and charging in Hawaii.
---
Funding for this special rebate offer is appropriated by the Hawaii State Legislature and is administered by Hawaii Energy under the direction of the Hawaii Public Utilities Commission. This rebate is therefore subject to different terms and conditions than other Hawaii Energy rebates, and we encourage you to read through the eligibility requirements and application thoroughly before applying.



Mahalo to our friends at Ulupono Initiative for making rebates
available for affordable housing developments on Kauai!