Lighting Rebates
Light the Way to Energy Savings
Making the switch to energy-efficient lighting is the quickest and easiest way to start saving money. You can save up to 90% on your lighting energy costs!
With instant rebates, buying the most energy-efficient lights is more affordable than ever. We work with the product manufacturers to lower the price of qualified ENERGY STAR® LED bulbs at local retail locations, so all you have to do is shop for your lights at one of our participating retailers, and you can start saving today! No forms or applications needed!
---
LEDs: Today's Best Choice
Understanding the difference between your lighting options can show you how LEDs stack up against the rest.
LED (Light-Emitting Diode) bulbs produce light by moving electrons around (through semiconductor material), rather than using a filament or gas. This requires very small amounts of energy and makes them more durable, safer and cooler to the touch. And, with smart bulb technology, control your lights from smart devices and even change it's colors. LED technology and pricing have improved greatly in recent years. One LED bulb can save you up to $135 per year and last up to 20 years!
CFLs (Compact Fluorescent Lamp) use a gas mixture "warmed up" by electrical currents to produce light. Although not the most efficient option on the market, CFLs produce far less heat and last 10x longer than incandescent bulbs.
Incandescent bulbs use a filament to produce heat, which then produces light. That's why these lamps are usually hot – roughly 90% of the energy used to make light escapes every time. Eventually, the filament will break and the bulb will "burn out". Halogen bulbs, which work similarly, are also very inefficient.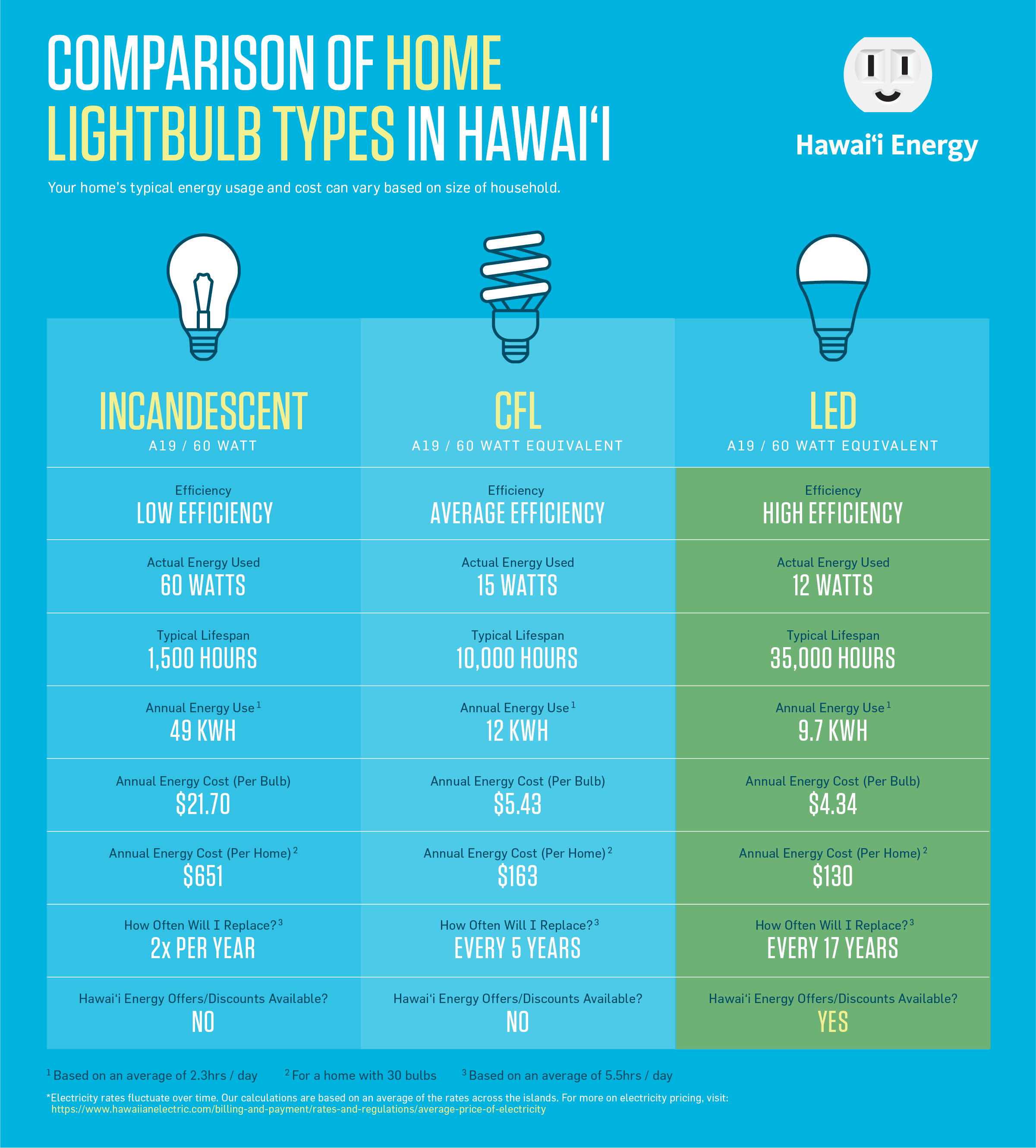 You can download the PDF here.
---
Tools & Resources