Government
There are many ways to improve the efficiency of government and municipal buildings by using equipment that is meant to last, lower first project cost, equipment operating cost, and improve employee's comfort. From enhancing building envelope to interior and exterior lighting, wastewater equipment, vehicle electrification, battery storage, heating and cooling, Hawaii Energy offers you cash incentives for switching to energy-efficient technologies.
Let Hawaii Energy help balancing your expenditure budget and lower operating cost!
For Questions
Contact our energy advisors:
Lily Koo
Honolulu County
kool@leidos.com
(808) 848-8563

Walter Enomoto
Maui County
enomotow@leidos.com
(808) 298-4269
Graceson Ghen
Hawaii County
graceson.ghen@leidos.com
(808) 895-6713
In 2022, a new state law was passed that requires state-owned facilities to incorporate energy efficiency measures. If this impacts you, please contact our Energy Advisors as you may be eligible to receive large rebates for these projects.
---
Featured Story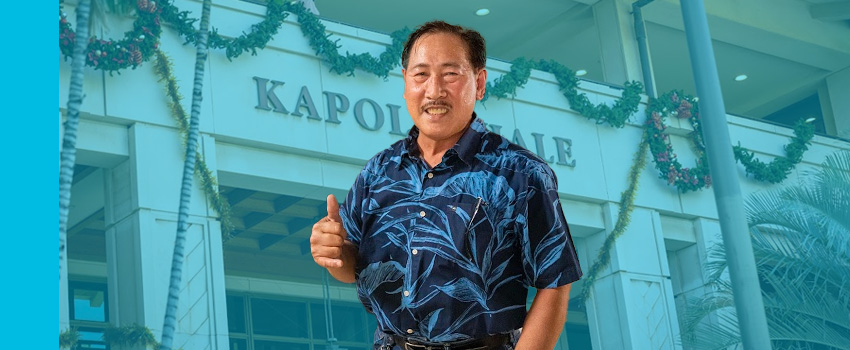 Kapolei Hale
After a site assessment, Kapolei Hale discovered their air condition equipment couldn't sustain the building load. they chose to work with Hawaii Energy on their chiller retrofit to maximize their energy savings and save money on their operations. Kapolei Hale is a great example of how energy efficient retrofits result in significant energy savings and improve operations overall.
---
Energy Champions
Department of Transportation – Airport
Interior & Exterior Lighting, High Efficient Transformers and Chillers, VFD Controls on Air Handlers
Rebate: $2,455,370
Annual Energy Savings: 16,921,334 kWh
Annual Bill Savings: $3,452,166
City & County of Honolulu's LED Street Light Conversion
Exterior LED Pole Light
Rebate: $1,922.002,000
Annual Energy Savings: 13,464,855 kWh
Annual Bill Savings: $ 3,820,787.25
Resources