Smart Device & Building Controls
Smart building controls collect real-time energy data from equipment to help customers optimize their energy usage and avoid paying more than necessary for electricity.
Now through June 30, 2023, based on available funds, qualified businesses can receive a 50% rebate* toward installing a basic smart controls package at their locations, up to $5,000 per site! Ideal candidates include quick-service restaurants, convenience stores, grocery stores and others with high energy consumption, typically driven through air-conditioning and refrigeration usage.
*Rebate applied to costs including materials, installation, and up to 3-year energy management as a service term. Rebate amount subject to change.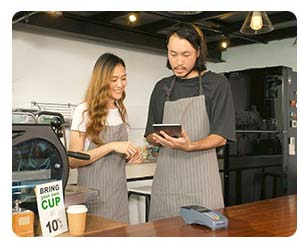 ---
Get Started
To see if your business qualifies, take this less-than-5 minute survey:
---
For Questions Contact
Eileen Stewart
Honolulu County
Eileen.D.Lacaden@leidos.com
(808) 848-8576
Walter Enomoto
Maui County
enomotow@leidos.com
(808) 848-4269

Graceson Ghen
Hawaii County
graceson.ghen@leidos.com
(808) 848-6713
GridPoint is a smart building technology provider. Businesses that install a
GridPoint Smart Device see, on average, an 8-12% reduction in energy usage.
---
Frequently Asked Questions

How do the controls work?
You will be asked to install several devices around your facility that communicate with each other and show you or your energy manager how much energy each appliance is using in real time. By analyzing your usage patterns, you'll be able to see where you may be wasting energy, and thus help you make adjustments to lower your monthly expenses. This visibility unlocks powerful, actionable insights designed to make businesses more resilient long-term.
What products are available?
Currently Hawaii Energy is working with a company called GridPoint. Their smart building platform includes a combination of smart devices, cloud-based software, and building controls that collect data, analyzes energy and facility patterns, identifies inefficiencies, and tells a building what to do to be most efficient.
How do smart devices benefit me?
They lower your costs! A reduction in energy consumption means a reduction of your monthly energy bill and cash back to your bottom line. GridPoint's platform provides tools to ensure your facilities are operating properly 24/7, giving you peace of mind. Benefits include:
Finally, managing your energy usage in this way helps our state add more renewable energy sources to the electric grid, getting us closer to our statewide goal of generating 100% of our electricity from renewable sources by 2045.
Click here to read more about customer success stories, and the technology described above.
---
Hawaii Energy is interested in working with companies seeking to market new energy management technologies in Hawaii. If you have a product or service you would like to pitch, please contact us at hawaiienergy@leidos.com.